If you want to win, talk to yourself in the mirror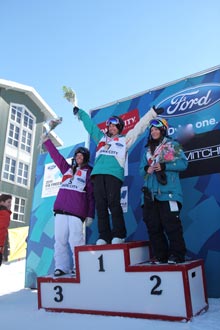 The beach loving nation of Australia is making waves in the world of snow this northern winter with skier x world cup wins, snowboarder x world championship wins, Aspen X Games silver medals and now GOLD and bronze at the FIS Freestyle World Championships in Deer Valley, Utah.
The success story is Anna Segal who came back less than six months after ankle surgery.
"7th at the X Games was pretty disappointing" said an exhausted Segal after her gold medal performance today.  "It's taken some soul searching, as corny as that sounds."
She clearly found that soul as she went on to win gold in the slopestyle but not before qualifying a disappointing eighth which makes her win that much more rosie.
"I talked to myself int he mirror this morning" Anna told Snow It All about her pre final preparations.  "It was the stuff of cliche movies."
Not surprising she declined to fill us in on exactly what she said but whatever it was, it worked.
Photo credit: Skiracing.com